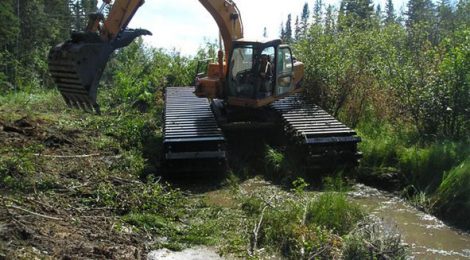 PETROLEUM INDUSTRY NEWS 2016 / CALGARY – INNOVATION FLOATS
Great Excavations Inc. continues to advance amphibious equipment for work in Canada's north.
"Our job is to jump start demand for all-terrain equipment that can float," said CEO John Skierka of Lethbridge, Alberta. "The sector has had little to no innovation for 50 years, so we are rebuilding an entire business."
The advancement of amphibious equipment in Canada stalled in the 1960s after the development of basic all-terrain vehicles. Since 2011, Great Excavations has offered construction services capable of navigating uncertain terrain, including marshes, swamps, ice, water and muskeg.
"As the primary company operating and promoting this equipment for the last five years, we've realized the interest is there, but people are looking for personalized solutions," said Skierka. "There's some good, solid equipment in the marketplace, but it's designed for different working conditions than what we have in Canada's north. That's why Great Excavations is committed to improving the design of the equipment."
In the rest of the world, including the U.S., South America, Asia and Europe, amphibious equipment is regularly used for oil and gas, municipal, environmental, surveying, recreational and related industries.
"Our vehicles are not limited by the issues of terrain that impact other wheeled or tracked equipment," said Skierka. He explained that Great Excavations invests in research and development to meet each client's individual needs. This includes working with manufacturing partners on design improvements.
"Our goal is to partner with government and industry to launch new products that fit niche demands across sectors, from environment and energy to forestry and mining," said Skierka. "Amphibious equipment has long been used to complement other technologies, but now it's time for it to take the lead."
In addition to R&D, Great Excavations participates in demonstrations and trials to prove the equipment's effectiveness and cost savings. "We have shown time and again that we are a fraction of the cost of traditional methods," said Skierka. "That makes us a reasonable and environmentally sustainable alternative to ice roads and swamp matting.
"Amphibious equipment is a real game-changer as our clients start focusing more on saving time, energy and money."
More About John Skierka
John Skierka founded Great Excavations in 2011. Previously, he was the CEO of Aeroptions, an aircraft maintenance sourcing company based in Hong Kong. By combining his aeronautics and construction expertise, Skierka is fast becoming the face of amphibious equipment in Canada.
More About Great Excavations
For more information, visit Booth #4525, check out www.greatexcavations.ca or call 587-885-1314.